Knowledge is Power - Lords Mobile for Number Crunchers [MS Excel Spreadsheet]

IGG ID: 372385560

UPDATED 24th Jul, 2017: Updated the link to spreadsheet.
https://1drv.ms/x/s!AuYnARvEz5sChr8l4nuQs7QD-4J7MA


UPDATED 14th Dec, 2016: Added sample info and screenshots.

Hi Mates!

I use an Excel spreadsheet for various everyday purposes while I play Lords Mobile. It helps me to keep track of RSS and Speed-Ups, what to forge, what to farm, what researches to rush in the Hell event, Deals profitability and many other different things.

Any comments are appreciated. 

The spreadsheet is published under Creative Commons licence.
It's yours - like it, download it, share it, adapt it.

Link to MS Excel spreadsheet:
http://doc.co/6FkyaE



You can view it online, however the best experience is to download it locally and use MS Excel (PC, Android, Ipad/Iphone) or copy to the spreadsheet to your OneDrive and open it using MS Excel Online.

Statistics

Put here your best values for statistics you have and check them before any action in order do not forget to put on correct equipment.




Hero Farming

Mark Heroes equipment you have and what stages to farm the rest.





See what stages to farm and how many Heroes will benefit from it. 




Research

See what researches are better to start during normal time and what to rush in a Hell event. Usually you would like to rush the ones what give you more Might per hour.




Items

Filter and find items by required statistics.




Mark items what you have already and what you want to forge. Mark the purpose of item, e.g. Gathering, Construction, Research.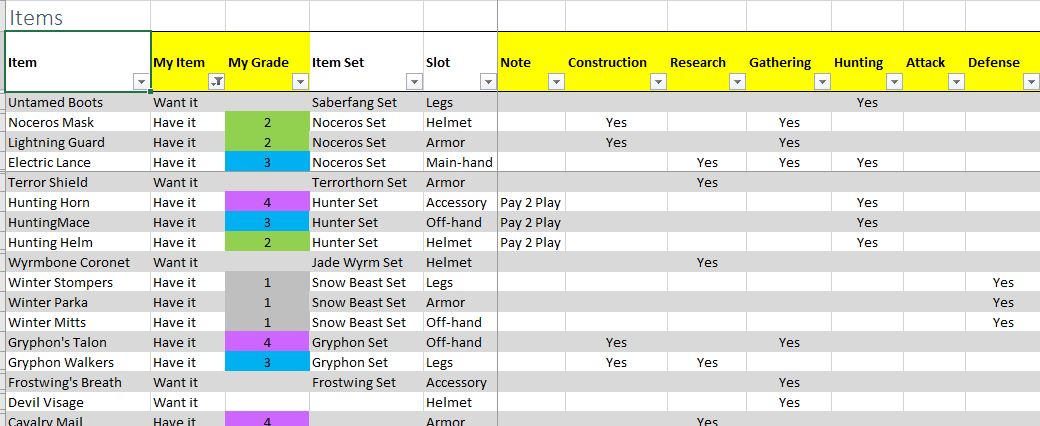 Resources

Count resources what you have in stock.





And the see an overall picture of your RSS status.




Speed Ups

Count speed ups you have in stock.





And then see an overall picture and plan your Hell event accordingly.




Army Composition

Do a simple army composition by entering what share each troop/trap type should be in an army. Then build required number of troops//traps accordingly.





Army Modeling

Do a simple army modeling by entering number of troops.




Solo / Hell events

Check Solo and Hell event profitability and decide whether you want to participate or not.





Deals

Check Deals profitability and decide are they for you or not.





And few more things......