Gawaingod's FTP guide to Gem Farming for BattleHall 25, Prison 25 & Alter 25


Introduction
As F2P and low spending (LS) players, getting academy25 will be a very tough task.
I'm going to break it down the bare minimum amount of gems you will need to do it.


21,500 gems            =           1500 x crystal pickaxe (Gem trove level 8)
30,000 gems            =           15 x golden hammer
200,000 gems           =          20,000 x war tome (Battle hall 25)
200,000 gems           =          20,000 x steel cuffs (Prison 25)
200,000 gems           =          20,000 x soul crystal (Alter 25)
             Total = 651,500 gems
(If you were to buy this amount of gems on day 1, the price will be USD$2200 onwards)
 
Realistically, you will be able to farm this amount of gems in about 9-12mths.
Let me break it down the techniques to save your gems so you can plan your strategy.

There is only one rule: Do not spend any gems
 
Projected Monthly Gems Income




*You can clear more hell 3 events as you get a lot of speedups from the 30day supply package

Gem trove lvl 8                                                
Save your gems and get your trove to level 8 as soon as you reach castle 24.
- Put in 16,000 gems and get a total of 31,500 gems after 30days.



- If you plan to play this game a long time, you can level up max deposit research to level 10, if you do that, you can level you trove to level 9 ( 35,000 gems ) This will allow you to deposit 30,000 gems a month and product a cool 31,500 gems a month.



Colloseum (400 -1800)  
Follow my award winning guide at
http://lordsmobile.forum.igg.com/topic?ctid=2972&t=1478116934#floor-4
 
Monster hunt 4                                               
Research Monster Hunt 4 as soon as possible.
You can drop :
Speed ups           :               3hrs , 8hrs ,15hrs
Gems                 :               500 ,600 ,700 , 800
Below are some good drops i have gotten :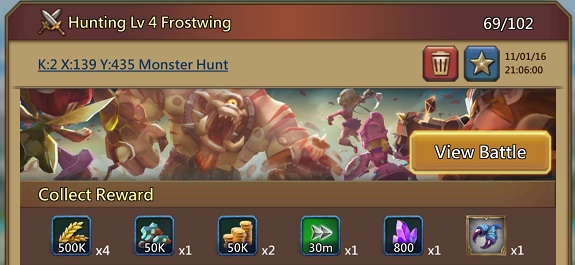 Active guild 90-100 players                        
They whole guild gets 1 box for every monster you kill. Just open the guild gift boxes, my guild's gift level is 19, 50gems x 2 and 100gems dropping daily are very common



Maintenence/events                                
IGG does maintenence or conduct events(e.g lectures or FB events) These drop a few hundred gems here & there.
 
Kvk Solo quest  - At castle 25, you will need 1.8m points to clear* and get 6,000 gems as a reward.
*I won't be going into this, go read other people's Kvk guild if you don't know how.



KvK Lode farming lvl 1-5                                
Depends on how strong your kingdom is as a whole will determine what level of lodes you get access to. They appear every 6hrs for a total of 4 times in a 24hr period.
level 1 = 10          level 2 = 50          level 3 = 100       level 4 = 200       level 5 = 500
Just gathering 3 and 4 every 6 hrs will get you about 8000+ gems.





Double gem hell 3 events



These are freaking insane. Save you speedups* and clear as many research events as you can.
*Refer to my award winning guide - http://lordsmobile.forum.igg.com/topic?fcid=14&ctid=3142&nfid=0


Below is some screenshots of the events I cleared in the 24hr period from 21[sup]st[/sup] Nov – 22[sup]nd[/sup] Nov





Guild Fest

Hopefully your guild works well together and takes only the tasks with 80+ points. You should be able to get a good tier 15+.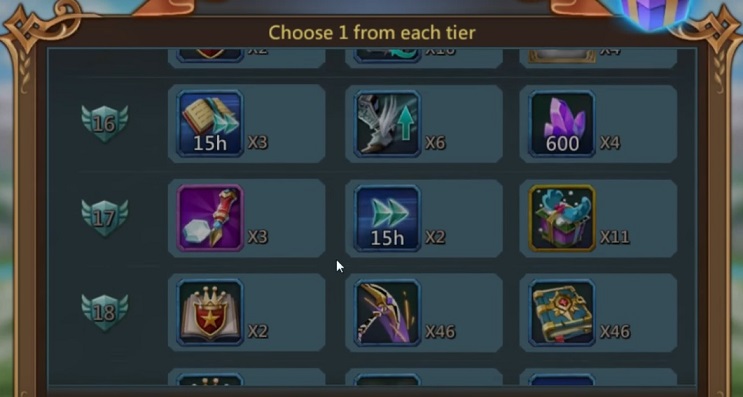 Good Luck !


K:2

[PDU] Viagra100mg
IGG ID :314792541